How is the jewelry made?
Inspired by nature and designed with love.  Each piece of jewelry is produced using the ancient lost-wax process and handmade by a team of highly skilled artisans in New York.  The studio uses modern, proprietary techniques that have won an award for the highest standards of environmental stewardship. 
Every piece of handcrafted jewelry has slight variations, adding to the character and uniqueness of each piece and making it a one-of-a-kind work of art you can wear.  The elegant, organic designs are created to enhance your distinctive beauty and celebrate your individuality.  
What materials is the jewelry made of?
The collection is cast in bronze and comes in 3 beautiful finishes: 24K Gold Plated, Platinum Silver, and Gunmetal - creating a luxury look that is accessibly priced.  The rings come in 24k-gold-vermeil, solid sterling silver or gunmetal so that they are enduring and can withstand daily wear.  All materials are sustainably sourced and of the highest quality.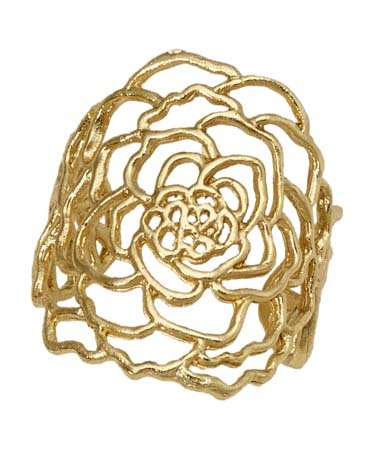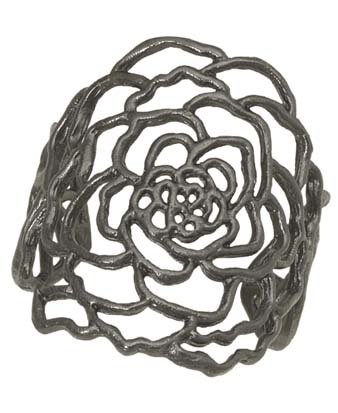 How long will it take until my order is shipped?
Most orders are shipped the same business day and take 3-5  business days for delivery.  However, all the pieces are carefully handmade in small quantities, so when there is high demand, some pieces may take up to 3 weeks to be prepared for shipment. Due to the handmade nature of our products, we ask customers to be aware of this production window.  Please contact us if you have any urgent shipping requests, and be sure to choose the appropriate delivery option. 
How do I take care of my jewelry?
Protect the plating of your jewelry by removing it when washing your hands, swimming, exercising, cleaning and before applying any kind of personal body products.  Maintain jewelry's shine by avoiding contact with agents such as soaps, perfumes, lotion, makeup, hair & cleaning products. 
If I change my mind, do you accept returns?
Customer satisfaction is of the utmost importance to us.  We want you to be fully satisfied with your purchase and offer free returns and exchanges.  Please read the return policy under the "Returns & Exchanges" page for full details or any questions please contact us at mercedesshaffer@hotmail.com or by phone at 877-794-9498.
We hope you find new and inspiring ways to express your nature with our one-of-a-kind handmade jewelry designs!  
"Nature inspired jewelry that's as unique as you."